Rooftop Tents,4×4 Uganda Rooftop Tents – Camping Gears
Rooftop camping adventure, East African region is the ideal destination for the wildlife enthusiast, adventure seeker or holidaymaker. Few places in the world can offer such a diverse array of ecosystems and habitats and the plentiful wildlife which live within 10 national parks.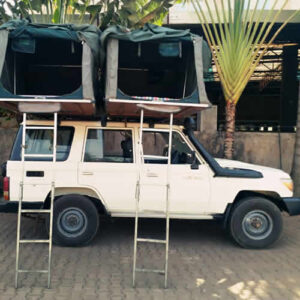 The many natural wonders of Uganda offer the opportunity to experience the holiday or adventure of a lifetime at affordable prices on self drive safari with Gorilla trekking in Bwindi Impenetrable forest national park.
As a traveling family, you can't rate an around East Africa road trip highly enough as a memorable travel experience in a rented 4×4 Safari Jeep with Rooftop Tent. you like nothing more than throwing our bags in the back, putting some tunes on and hitting the open road with a strong 4×4 Land cruiser 7.0 Series with free Mileage .
Instead of flying from point A to B and missing everything in between, the journey becomes just as memorable as the destination when you select to visit 10 National Parks.
At Uganda car rental we do provide high-tech roof tented vehicles at relatively cheap prices.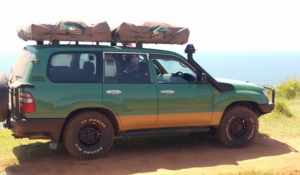 Rooftop tents have their origins in the African where they give people a safe and cheap place to sleep and avoid entanglements with everything from lions to poisonous snakes and spiders. Roof tents give a traveler an added advantage as one gets the opportunity of spending awesome nights in the wilderness amidst sounds of birds as well various animals yet totally safe.
A roof top tent saves a lot as you pay less for such a vehicle compared to what you would have spent on the highly priced accommodations, become your own chef as well sitting in the wilderness where you only neighbor is the flora and fauna.
Unlike other ground tents that you have to put up whereby you might end up loosing some of the Important gadgets for this kind of tent like the pegs and guy lines whereas with a roof tent you just pull up, take off the cover, open your tent and extend the ladder and then everything is done and you are completely off the ground. So there's no need to move any sticks or stones. Once you've set up a tent once or twice, you should be able to park, and be ready to sleep in minutes. Plus you can leave those sleeping bags in there when it's time to pack up.
Roof top tents have a thick foam mattress built in that keeps you warm and comfortable. The entire floor of the tent is foam too, so you can roll around all over without any problem.
In terms of security, there is nothing as secure as a roof top tent. This is because no animal can climb up there the roof 5-7 ft to harm you in any way. Besides, who doesn't love that feeling of being in a tree fort?
As mentioned earlier, with a thick material used for the tent, roof top tents are also more weatherproof.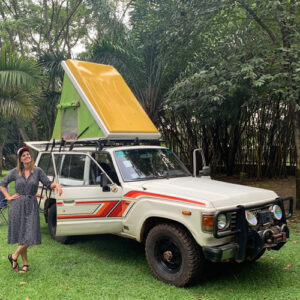 The rain, wind, snow, or whatever kind of precipitation won't be reaching you easily and when the rain does start raining, don't worry about bailing water out of your sinking tent as this can never happen.
Roof top tent provides you with enough space since all the storage space in your vehicle that you would have used for the storage of sleeping bags and mattress is now free as they are stored up in the roof tent.
Best Time to hire Rooftop tent & Camping Gears
Roof top tents are usually darker inside since they are normally since these vehicles are normally in the wilderness where light is very minimal. So it is always advisable to go on moon days when the moon is full such that you get a little light in the wilderness. However, this is not a very big as you can improvise and use any other foam of light like rechargeable torch or solar lantern.
Roof top tents are normally better off parked and erected below a good shed-tree. This helps it to be protected from strong winds especially during rain fall. So it is advisable to travel in dry seasons to avoid your tent being blown away by strong winds during rainy periods.
Roof top tents are also cross dimensional as far as using them is concerned. So please there is no definite season favorable for using these roof top tent since they are mounted on strong vehicles that can manage any terrain. So please just travel all year round and you will almost have the same experience.
Rooftop Tent Types for Hire in Uganda
When it comes to Roof top tent hire, we offer two types that is a family rooftop tent which is carrying 4 pax in two double tents and couple roof top tent that carries one tent for double pax
Types of Fleets that can Have Roof top Tent
Land Cruiser 7.0 Series , Very beautiful and strong 4×4 Land Cruiser for 4-5 people. This car has two roof tents, of which one is slightly wider. This is the perfect self-drive 4×4 for a family.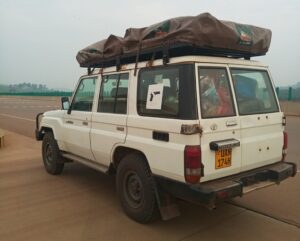 The Toyota Land Cruiser 79 series double cab 4×4 is one of the most popular cars of Africa. Many believe it's the best rental car around. The Land Cruiser is perfectly suited for visiting the most remote areas, where a 4×4 drive is indispensable.
The Land Cruiser has a 2nd battery, a long range tank (140-180 litres of Diesel,about 1100-1300 km of action) and a strong 2.4 diesel engine. The Land Cruiser 79 DC is fully equipped for a camping safari through Eastern Africa.
Cooking is made easy with the barbecue set, complete kitchen set, gasbrander en gasfles, water tank, and a table and chairs. The dust-free storage chest is perfect to store cooking equipment and provisions.