4×4 Toyota Rav4 Full Time Rental, Enjoy Uganda Tours
Uganda is the perfect self-drive country. You can experience a real Africa adventure here by traveling straight across the national parks with in the 4×4 full time Toyota rav4 recommended from Uganda Car rental .
Driving off-road with the 4×4, tracks through the bush of National Parks , camping in the middle of nature and Africa's wild animals: it's all possible on a Self-Drive of Uganda with 4×4 Toyota RAV4 that comes with camping gears to enable you camp in the wilderness of Uganda.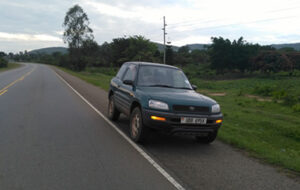 Explore Uganda National Park on a self drive holiday in the SUV that will be economical in the fuel consumption and ever full time 4×4 jeep worthy even exploring other national parks in east african countries like Kidepo Valley national Park,  Serengeti national park , Masai mara national park on the great East African drive with relaxation on the beaches of Lake Victoria.
However when your traveling number is more than 4 paxs then we would recommend  a Toyota land cruiser that can offer you great chance of rooftop tent camping .
Learn about the specification of Toyota Rav4
The vehicle was designed for consumers wanting a vehicle that had most of the benefits of SUVs, such as increased cargo room, higher visibility, and the option of full-time four-wheel drive, along with the maneuverability and fuel economy of a compact car.
Toyota Rav4 is considered among the suv rentals offered to travelers in Uganda on Self drive , Although not all RAV4s are four-wheel-drive, Toyota RAV4 owned by Uganda Car rental stands for "Recreational Activity Vehicle: 4-wheel drive that will enable you enjoy self drive adventure.
Toyota Rav4 3 Door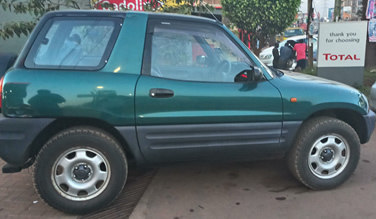 Rav4 is one of our smallest 4×4 suv that  is 2 version the 3 door rav4  and 5 door rav4 but all have the carrying capacity as 3 paxs including the driver.
This is the most preferred 4×4 rav4 that most couples prefer to take, the car is pocket friendly, with good fuel consumption, all Rav4 consume petrol either unleaded or normal petrol, it has a small fuel tank that takes 60 litres /coverage 500km-600km depending on the nature of the terrain you're driving in . To those traveling as Couples this 3 Door Toyota 4×4 rav4 would be a perfect choice for couple traveling and it has a full time 4×4. And its in both version Automatic gear box or manual gear Box so be aware to notify your specification at the time of making your reservation.
4 Door Rav4 with Sun Roof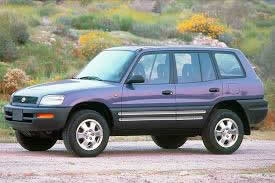 This is a bigger version of the Toyota Rav4 SUV that has five doors  and almost with the same functionalities with the 3Door Toyota 4×4, the only difference is the number of the currying capacity, its fits 4 paxs with enough space for your luggage and leg room, it we have both manual /stick shift and automatic gearbox so your choice is the only answer we wait to hear at self 4×4 self drive Uganda.