Going to Queen Elizabeth National Park for Self Drive Adventure? why not hire a car, Camping Gears and Book an overnight stay at Ishasha River Campsite Located in the southern sector of Queen Elizabeth NP, the UWA's Ishasha River Camp is a really beautiful place to camp.  Large trees provide plenty of shade on the banks of the Ishasha River.
The only thing separating you from the Democratic Republic of Congo is a narrow muddy river full of hippos.  When you sit in your camp, hippos snort and perform just meters away, you can't get much closer to wildlife than that.  The amenities are fairly basic, a pit latrine and a shower fed with buckets of water from the river.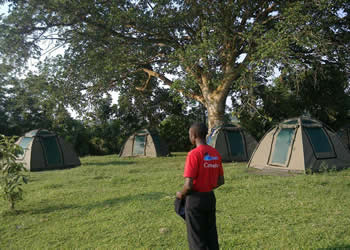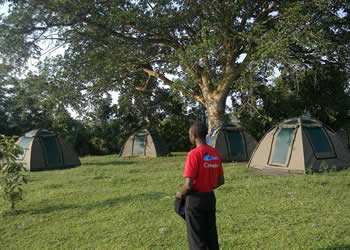 Firewood is provided by the rangers who are never far away and can help you with any needs you may have.  Near the Ishasha headquarters (a few minute drive from the campsite) is a canteen selling drinks and very basic meals.
Game drive highlights nearby include the parks famous tree climbing lions and the Lake Edward Flats where you'll find lots of birds including the shoebill as well as buffalo and elephants.
If you are fascinated by insects, the Ishasha River camp is the place to be.  Interesting and unique creatures will keep you entertained for hours.
Queen Elizabeth National Park offers the great experience of encountering the tree climbing lions in the southern sector. Book a Car with Uganda Car Rental to drive to south western Uganda.